Things to do in Warburton
Charnwood Cottages in Warburton are only 70 kilometres east of Melbourne, reached via a beautiful drive through the villages of the Upper Yarra Valley. Warburton is an historic gold-mining town which experienced its gold rush from the 1860s to the turn of the century. In the early 1900s, Warburton became a much loved mountain retreat for Melburnians at the weekend. Many of its buildings date back to that era and the town's Visitor Information Centre is housed next to the replica water wheel on the banks of the pristine Yarra River.
Golf
Warburton Golf Club is just 500 metres from Charnwood Cottages.
This 18 hole all weather private golf course is possibly Victoria's best kept golfing secret! Visitors always welcome. The course boasts magnificent views, carts can be hired and bookings are recommended. You can't beat a round of golf with excellent greens, deceptive length holes and such picturesque surroundings. The first 9 holes of the current course were literally chiselled out of the foothills of Mt Donna Buang and Mt Victoria.
Fishing
There's nothing quite like an afternoon's fishing to help you switch off and relax into holiday mode. Whether you're a novice or a pro, cast your line and try your hand at trout fishing in the clear mountain waters of the Yarra River at the end of the garden in front of Charnwood Cottages. You may even see a platypus at dusk on a summer's evening, or some locals and holidaymakers paddling and floating by!
Fishing licences are available from the nearby Post Office or Newsagency.
River and Bush Walks
There are numerous walking trails in Warburton, some are a short drive away but many start right outside your cottage. The Yarra River Walk, in front of Charnwood Cottages is three kilometres of meandering pathway along the pristine river, through the town centre and over six bridges including the iconic Swing Bridge which you overlook from your deck.
Longer walks take you into the forests of mountain ash, hike to La La Falls or through myrtle beech rain-forest to the 300 year old Ada Tree, an immense flowering mountain ash.
Walking track details are available in your Cottage and detailed maps can be purchased at the Waterwheel Information Centre in Warburton.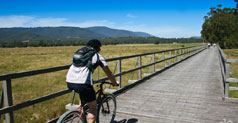 Bicycle Trails
Warburton is perfect for a cycling holiday, famed for it's iconic Warburton Trail, a 38 kilometre rail trail following the old 1901 Warburton Lilydale Railway line. The cycling and walking track takes you through the floor of the valley with staggering views up to the mountains, through tunnels and over wooden trestles bridges. You can hire a bike from Cog Bike Café in Warburton and we can arrange a picnic to take with you. Join the trail just across the highway from Charnwood Cottages.
The O'Shannessy Aqueduct Trail takes you through 30 kilometres of ridge-line, ferns, tall mountain ash, plantations and rainforests, affording you great views over the Yarra Valley and the flora and fauna of the region.
For the fit mountain road cyclists among you, Mt Donna Buang is the ultimate bike challenge.
Cafes and restaurants galore await you during your stay in Warburton, and how nice to be able to leave the car at home and enjoy the short stroll from your cottage. Have dinner in one of Warburton's restaurants, or order a platter from the Warburton Pantry to share back at your cottage. We have provided literature on a variety of dining options for you in your cottage and are happy to assist you with bookings prior to your arrival.
If you're a theatregoer you'll love the Upper Yarra Arts Centre with its diverse program of stage productions, art exhibitions, movies, recitals, workshops and festivals.
From Melbourne International Comedy Festival Roadshow performances to Jazz quartets, a full school holiday program for kids to the latest blockbuster movies, the Upper Yarra Arts Centre has a full and varied program, just a short walk from your cottage.
Rainforest Warburton
Length: 350 metres
Grade: Easy Track Excellent
Start: Mt Donna Buang Road
Finish: Mt Donna Buang Road
Nearby: Warburton
This beautiful site features a 40 metre long observation platform which takes you into the rainforest canopy 15 metres above the ground in the Yarra Ranges National Park near Warburton.  A 350 metre long elevated walkway takes you through the Rainforest Gallery where you will see magnificent 65 metre tall old growth Mountain Ash trees, ancient Myrtle Beech trees (many of which could be up to 300 to 400 years old), ferns, mosses and other plants that make up this damp and diverse rainforest environment.
There are several viewing spots along the walkway where you can pause and enjoy the sounds of Cement Creek flowing past on its journey to the Yarra River.
Accessibility Information
The observation platform is 40 metres long and has no steps.  It has a level floor surface consisting of steel grating suitable for wheelchairs and strollers. Handrails and safety fencing are on the sides of the platform.  Below the observation platform is a 350metre long elevated walkway that meanders down into a rainforest gully. This section has many steps and is not suitable for strollers, walking frames or wheelchairs.
Mount Donna Buang
Mt Donna Buang summit (1,245m) is located in the Yarra Valley, overlooking Warburton in Victoria.
There is a 21 metre high lookout tower on the summit providing panoramic views of the Yarra Valley, Dandenong Ranges, Melbourne, and the Alps.
Picnic facilities are available.
Many walks start from the Summit. Some are listed below.
During Snow Season in Victoria, Mt Donna Buang Summit does receive some snowfall periods during Winter. Check the snow reports for updated information. When there is snow, it is a popular destination for Melbourne Families to do some snow play and enjoy the toboggan runs.
Car parking is available at the summit through the day, however the summit gate is locked in the evening and when there is snow. At these times car parking is available at the gate and the summit can be accessed by a 300 metre walk along the road.
Keep an eye out for the elusive Superb Lyrebird during your visit.
Walks: For all information on walks available, visit http://parkweb.vic.gov.au
Mt Donna Buang to 10 Mile Picnic Area
Distance: 1.2km
Time: approx 30 minutes
Grade: Moderate
Mt Donna Buang to the Rainforest Gallery
Distance: 3km
Time: approx 1.5 hours
Grade: Moderate/Hard
Mt Donna Buang to Mt Boobyalla
Distance: 2.5km
Time: approx 1.5 hours
Grade: Moderate
Mt Donna Buang return via Mt Victoria and 10 Mile
Distance: 6km
Time: approx 3 hours
Grade: Moderate
Big Peninsula Tunnel
The Little Peninsula and Big Peninsula Tunnels are located on the Yarra River, about 14 km east of Warburton, 70 km from Melbourne, on the Upper Yarra Reservoir Rd there is a signposted turnoff to the Little Peninsula Tunnel Picnic Ground.
There are picnic facilities at the car park. From there it's a short walk to the Little Peninsula Tunnel, which was created to alter the course of the river in the goldmining era so that the prospectors could scour the river bed.
The Tunnel can also be reached from the upper car park, which is linked by a short track to the picnic ground.
Another tunnel is at the Big Peninsula, about 1 km further east along the highway, and tracks lead down from the small car park, to either side of the Tunnel. A small picnic area is at the bottom of the stairway. The Goldfields Walking Trail starts nearby.
A new Information board has been constructed at the Big Peninsula Tunnel viewing point. New wooden stairways and rails have also been built. They are popular destinations within the Yarra Ranges National Park.
Please note some areas of the walking track are undergoing restoration. Please follow the signs and safety instructions.